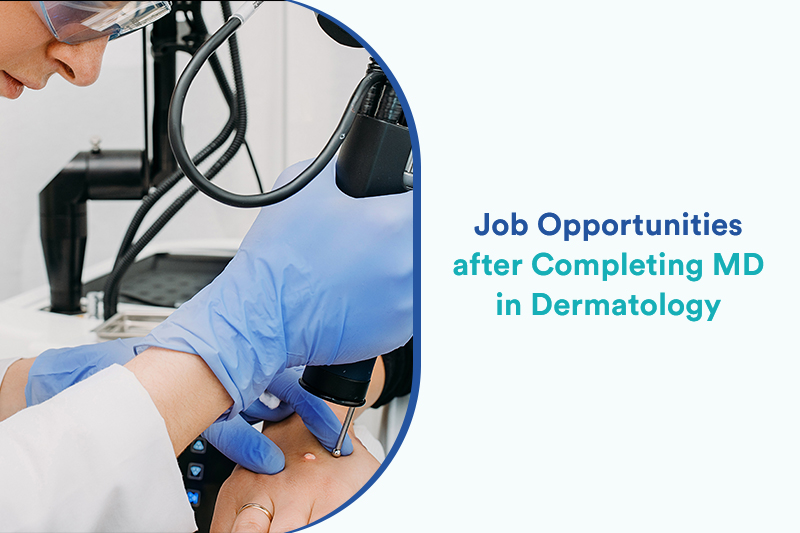 Job Opportunities after Completing MD in Dermatology
Dermatology is a branch of medicine that deals with the investigation, analysis, diagnosis, and treatment of diseases of the skin, hair, nails, and mucous membranes. It is considered as one of the most competitive fields in the medical sciences. It takes years of training, in-depth knowledge, and a lot of effort and patience to succeed in this industry. This medical specialty involves both medicinal and surgical procedures. 
The conditions dermatologists treat include Acne or skin blemishes, Rashes on the skin, Discoloration of the skin, Lesions on the skin, Skin cancer, Hair loss, Infections of the skin, Fingernail or Toenail problems, Inflammatory skin conditions such as Eczema and Psoriasis and many more. 
Career Prospects and Job Opportunities 
Within the discipline of dermatology, there are two main career options. You might choose to become a surgical dermatologist if you wish to carry out procedures on patients with a variety of ailments. You can train to be a clinical dermatologist or dermatopathologist if you choose to administer medications that will aid in treating the condition. Since some patients require clinical attention while others necessitate surgical treatment, the majority of dermatologists practice discipline on a case-by-case basis. There are plenty of job opportunities for skilled dermatologists. You can practice in the government or private hospitals. You can even start your private practice or work collaboratively in a healthcare facility.  As cosmetic dermatology is on the boom, there is a huge demand for dermatologists in pharmaceutical and cosmetology companies all over the world. You can pursue superspecialization courses, fellowship courses, short-term fellowship courses, and certification courses in the dermatology subspecialties such as Dermatosurgery, Cosmetic Dermatology, Dermatopathology, Mohs Surgery, Pediatric Dermatology, Pediatric Dermatology, and more. 
Benefits of Pursuing a Dermatology Specialty
The specialty is highly in demand and provides greater job stability.

There are a lot of career options and a variety of professions in medical, surgical, and cosmetic sub-discipline at different experience levels.

It advances your medical career profile and has an escalating graph in terms of financial stability. 

The specialty helps to maintain work-life balance and hence allows greater flexibility depending on the job profile chosen. 

It is one of the highest-paying specialties at this time.
Job Profiles Associated with the Dermatology Specialty
Dermatologist

Skin Specialist

Lecturer/Professor

Cosmetologist

Cosmetic Surgeon

Clinical Researcher

Medical Officer

Pediatric Dermatologist

Dermatopathologist

Medical Consultants

Tele Dermatologist
Employment Areas
Government Hospitals

Skin Clinics

Private Hospitals

Railway Medical Facility

Central Government hospitals including PHC and CHC

Cosmetic Clinics

Hair Clinics

Pharmaceutical Companies

Cosmetic Companies
Role of a Dermatologist
A dermatologist must:
have a basic understanding of foundational subjects as they apply to dermatology.

get in-depth knowledge of all relevant topics, including contemporary advances.

be familiar with the most recent diagnostic and therapeutic alternatives as well as all bedside procedures, including diagnostic and therapeutic ones.

be able to analyze leprosy, venereology, and dermatological cases critically, investigating and treating patients as needed.

plan and suggest for patient prevention and rehabilitation.

be capable of ensuring that national health policies are carried out, particularly those that address leprosy and sexually transmitted illnesses (STDs).

develop a positive attitude, great communication skills, research methodologies, and professionalism.

possess the necessary skills to practice dermatology ethically.
Dermatology is a vast and challenging field. To enhance your knowledge of the Dermatology MD course, know the recent advancements and treatment procedures, clear doubts, and evaluate your learning, you can enroll in a good dermatology online course. A good dermatology e-lecture series provides you with access to one of the best PG Dermatology video lectures, concise notes, case demonstrations, surgical videos, practice questions, spotters, and more. All of the series' topics have been chosen to cater to the learning needs of postgraduate students. Its elements appropriately address students' confronting significant clinical issues and promote concept-based learning.